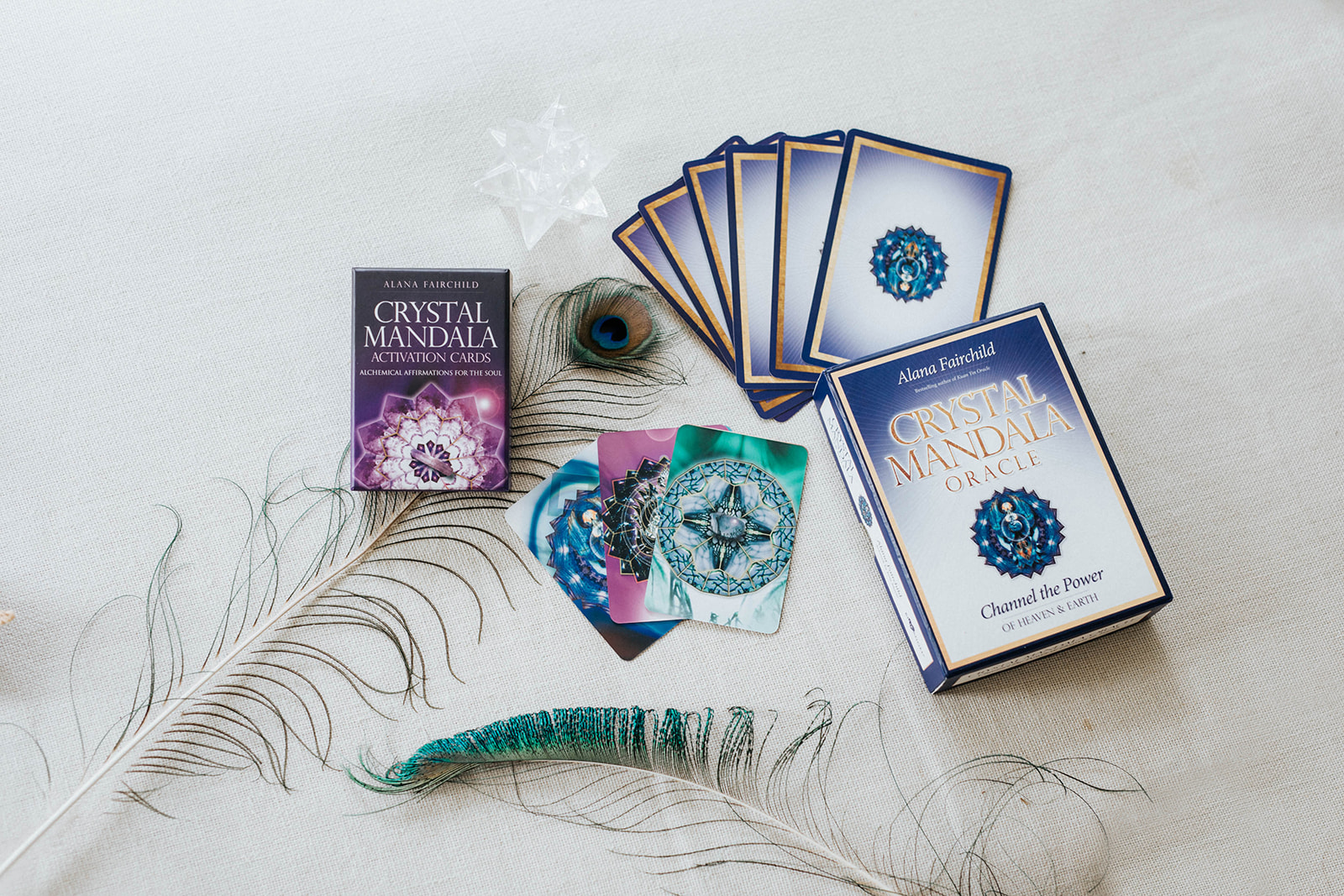 What will I learn?
You're invited to experience and empower the soul, while developing your healing channel with the divine energies of the Angels, Ascended Masters, Goddesses, and Crystalline frequencies.
During these 16 weeks, you'll join our sacred exploration of both heart and throat chakra- based modality practices, centred on speaking words of love, empowerment, and wisdom.
These specific intentions are built in a sacred container that attracts, amplifies, and circulates divine healing energies while working with Alana's oracle decks, books, sacred music, and meditations as spiritual tools to support you along the process.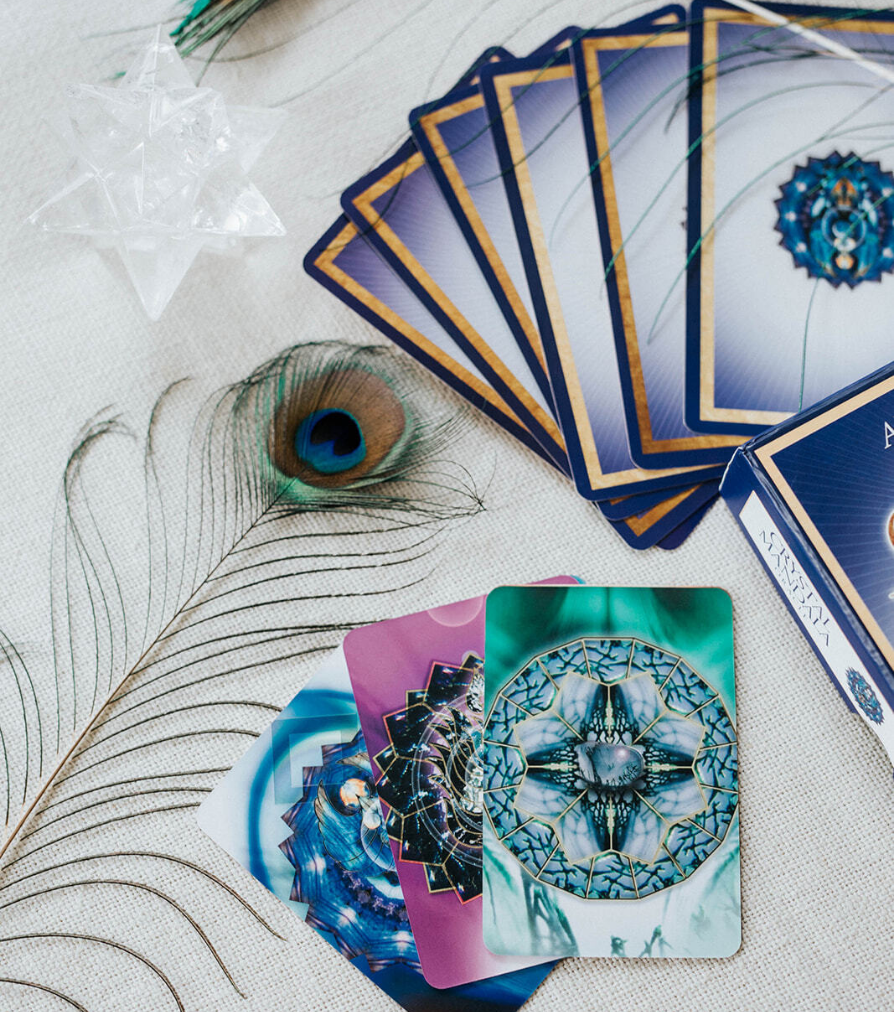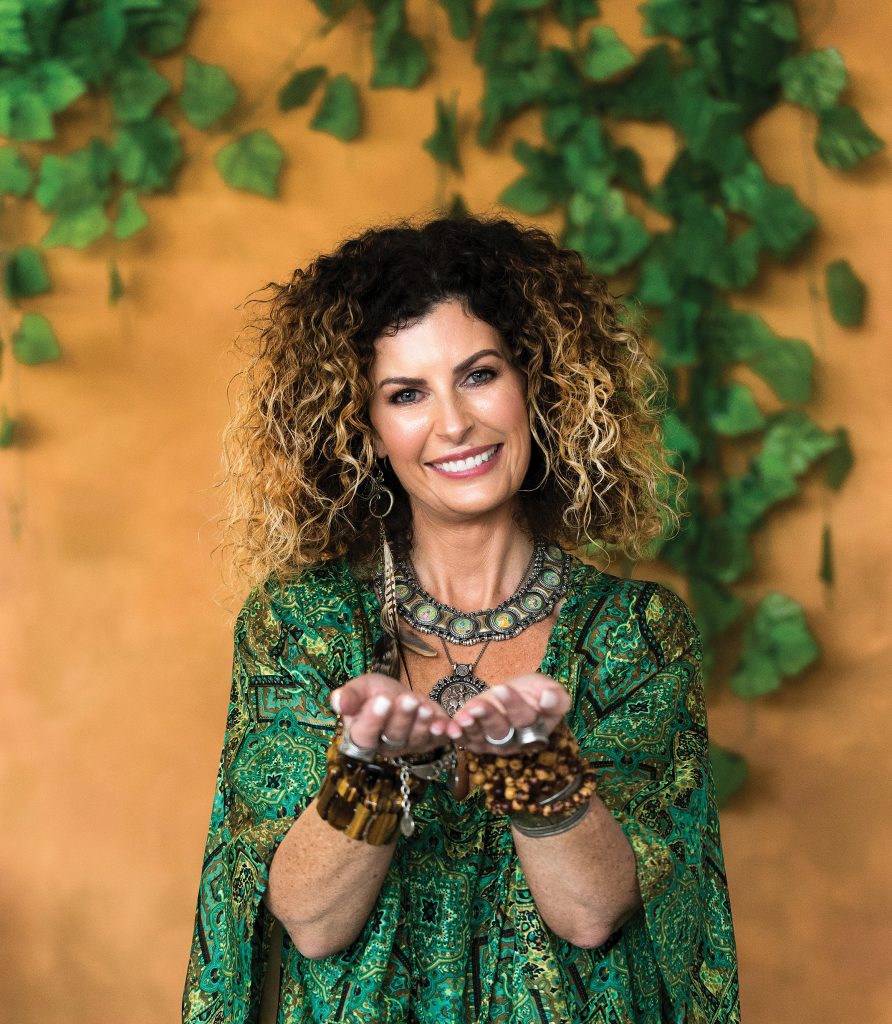 Alana Fairchild is a rare teacher who embodies her free-spirited, loving, and empowering teachings, communicating from a place of authentic being and considerable experience, making esoteric wisdom accessible and relevant for modern humanity. She will inspire you to connect with your heart and realise the beauty of your sacred soul journey.
Over 16 weeks, you will be building a relationship with enlightened divine beings, and your own soul. You will view videos, listen to audio recordings, read PDFs, receive healings, and practice the techniques; communicated within the modality forum, all whilst you are supported to explore and heal yourself and express that healing light within, in the world.
MODULE 1: Heart Awakening

In this module, we focus on the Crystal Angels 444 book and the Crystal Mandala Oracle as well as Alana's abundance of unique course materials only available in the program. You will be taught specific rituals to experience and express the vibration of the angelic dimensions. These rituals attract angelic healing energy to all levels of mind, body and soul. This work stimulates profound heart purification while strengthening your spiritual power. 

You will be connecting with your heart which allows the beauty of who you are to be recognised and expressed. Conscious connection with the angelic realms promotes deep inner healing and an uplifting awareness of yourself as a spiritual being having a human experience. The angelic frequency focuses on loving energies of light, and provides a foundation for you to send healing distantly to others including animals and situations in our world that can benefit from healing, wisdom and love. 

Many of our graduates use the techniques in this module to create healing energies for animals and for earth healing work especially.  We've had community members share pictures of their beloved cats, dogs, chickens and horses who love to spend time near (and sometimes in the middle of) the altars created for the modality practice and at times also seem to enjoy watching the videos of Alana.

Our team facilitates group healing opportunities online in our modality-specific forum so that all participants can experience the techniques and energies of the modality, supported by our team to strengthen the inner healing channel and activate the soul's desire to be a source of light, love and healing in our world.

MODULE 2: Soul Connections

In this module, we focus on the Crystal Masters 333 book and the Crystal Mandala Oracle as supportive tools, alongside Alana's unique course materials for the program. The coursework in this module deepens and amplifies your experience of spiritual energy, and facilitates expression of your authentic self. 

If the angels are about the heart, then you could say that the masters are all about the soul! The masters have their own loving and powerful presence that stimulates, inspires and encourages the soul to courageously open, heal and become more fully alive. There is a strong spiritual shift from module one to module two.

The master frequency aligns you with your life purpose and sacred destiny. This can result in deep healing as reorientation towards your inner truth occurs within, and then gradually resonates outwards, evoking change in how you approach your life journey. Brightening the light of clarity within you, the masters help you discover and embrace your unique and authentic soul path. 

The sacred rituals in this module provide techniques for offering healing sessions to individuals and groups, and work more actively in shifting karmic patterning. The shift in spiritual energy at this level is often palpable and strengthening for the soul.

MODULE 3: Empowered Voice

In this module, we focus on Crystal Goddesses 888 and the Crystal Mandala Oracle as supportive tools alongside Alana's enriching and unique course materials for this module. You will explore the deeper awakening of your creative flow with the goddess energies, focusing on embodiment and empowerment of your soul voice.

Training in group healing templates including an additional template for facilitating threshold blessings for special events, amplifies this soul voice activation. The threshold blessing session can be used as a sacred ceremony for births, death, marriages, moving home, changing jobs, or retirement, and many other significant life transitions. Awareness of the deeper meaning of the cycles of life, and holding reverence for these at a soul level, is enhanced.

The goddess frequency combines the heart and soul from the previous modalities, awakening awareness within the body and sensing the sacred in daily life around you. This is grounded, relevant and inspirational spirituality. The goddess energy encourages healing change and growth. The goddess frequency is 'no-nonsense', yet loving and fun, which encourages you to respect and enjoy your soul journey.

With the divine feminine energies of the goddesses, soul work often starts to feel very real and transformative qualities of the work deepen. We hold the space to encourage creative responsiveness, authenticity and trust to move through your personal process and open to receive the blessings that the healing path bestows.

MODULE 4: Inspired Presence

In this module, all the teachings from the previous three modules are integrated. The focus is on stepping up your ability to embody and express wisdom and light, with trust and spiritual confidence. You will be trained to hold energies for small group mentoring sessions, and prepare yourself for the energetic challenge of hosting full day workshops if you wish to do so. 

Whilst you do not have to practice the modality professionally, the technical training in this module can stimulate palpable soul growth. Numerous trainees have discovered abilities that they never knew they had when embracing all of module four. You may work with fellow trainees in our community, or with others outside of the community as suits you best, either online and/or in-person to accomplish the training tasks set for module four. As you follow your heart you give the gift of deep meaningful connection for yourself and the other participants. This can be a revelation particularly if you are new to group work. 

Learning how to lead workshops or small group mentoring sessions, and hold the space effectively, is a special skill, increasing confidence and energy in your personal relationships as well as your spiritual practice. Working with a group in Saraswati Healing™ can generate a beautiful and powerful energy of positivity and support for all participants, especially through the group sharing sections within the templates. 

For those who are focused on self-healing, as well as those keen to become licensed practitioners, this module is an opportunity to embrace empowerment, develop spiritual confidence and for many of our trainees, discover new levels of confidence arising from trusting and relying upon their spiritual connection.
SPECIAL OFFER
For those who would like to sample module one before committing to the entire program, we invite you to purchase Heart Awakening as a stand-alone module. If you wish to proceed into the remainder of the program, you can do so easily at the end of module one, a further three modules to complete the foundations course and become eligible for the slew of graduate benefits.
If you are new to Alana's work, this may be a way to dip your soul feet in the sacred waters before making the full commitment to the course.
The once-off payment for module one stand alone option is USD 472. No payment plans are available. If you'd like to complete the program, you may complete the regular payment plan of USD 472 per month for the next three months, or you may choose to pay the balance in full as a once off payment of USD 1416.
BLESSINGS FROM OUR COMMUNITY
Alana has a gift for creating a pathway for the visionary soul that is inspiring to the heart and highly transformational. I see so many trainings that make promises yet lack a deeper understanding of everyone's unique journey. This is a sacred journey that keeps unfolding.
Delphine, France
Saraswati Healing has been the catalyst for the greatest change within me, a journey of remembrance guiding me back to my authentic truth. When I set out on this journey I imagined I would weave this modality into my offerings, holding space for others as they opened up to their truths. Nothing quite prepared me for the unfolding of the most profound self-healing of my life thus far.
Rachael Staples
My journey through the course was in one word MAGICAL. I can't even begin to explain the number of miraculous things in my life during this journey. It was truly a blessing way beyond my boldest imaginings. A rebirth of my soul and a gentle unravelling of the layers that were keeping me small.
Eve, Australia
Frequently Asked Questions
Where do I begin?

This foundation course is your first step on the Saraswati Healing™ pathway. The program enhances your connection to radiant spiritual worlds, laying the groundwork for greater activation of your inner healing channel. The sacred work of this modality facilitates the soul's healing journey, fosters direct relationship with unconditionally loving spiritual dimensions, and so helps you strengthen and shine your inner light. You will be nurtured on a journey of self-healing and inner awakening. You will be encouraged to become a grounded and healing presence in your life, your community, and our world. 

Do I need prior experience to do the course?

There are no prerequisites needed to join this program, however some familiarity with Alana's work, particularly the Crystal Mandala Oracle, will help you understand the concepts and frequencies that you will be working with through the foundations course. 

We truly believe that if you feel drawn to this training, then your heart is ready to be immersed in the modality's frequency of loving divine presence, authentic soul, and the grounded wisdom that Alana herself radiates. 

You do not need to be an experienced healer to enrol in the training. All it takes is listening to the call of your heart and a willingness to open yourself to something vast and radiant and good. Your heart will sense when it is time for you to join us on the journey to becoming an expansive channel for love, light and wisdom.

What is the pace of the course?

This program has been structured in a 16-week format with four modules. The structure supports participants as they move through different frequencies with the divine beings, adjusting to increased depth and energy as the course unfolds.

The pacing may seem fast at times. While we encourage you to keep to the steady pacing of the program, moving with our team and group soul process, we also recognise the wisdom of your own inner rhythms. We would prefer that you move through the course materials with integrity and authenticity. For this reason we have a flexible attitude towards completion dates for extenuating circumstances.  

Our suggested investment of time in the program is around four to five hours per week to watch the training videos, listen to the MP3s, read the materials, reflect in your journal and practice. We ask that you create enough space in your life to prioritise your studies before enrolling. The feedback we have received from community members who do this is that the experience of the training goes deep for them.

Do I need any extra materials to undertake the training?

Receiving your certification

When you have completed a foundations modality course, you receive a beautiful electronic certificate of completion.

When you have completed a foundations modality course, you receive a beautiful electronic certificate of completion.

If you wish to also become a professional practitioner, and complete the relevant forms and submit the additional reflection exercise required legally and ethically for us to grant you a professional license, then you will also receive an electronic practitioner license for the modality too.

Is there an assessment?

There are three assessments in the program – two in the foundations course itself and one that is essential if you are going to apply to become a practitioner. We do things differently however, and for the soul, so our assessments are actually opportunities for a sacred offering of reflection. The two in-program assessments for trainees comprise an opportunity to generate an exercise in sacred reflection, as well as an invitation to explore an additional creative offering as an expression of your soul.

We include the opportunity to share the additional creative offering through our programs because it so often generates the most unexpected and absolutely heart-opening realisations! We encourage you to take advantage of these opportunities to share your experiences with us. It can be healing to know that you have been seen, acknowledged, and are supported on your personal spiritual journey. And there is so much beauty in the soul that can awaken and flourish creatively through this process.

The assessment exercise to be included in the application for practitioner accreditation is less focused on your general spiritual experiences and more focused on the technical aspects of modality practice. We ask you to share your experiences of practice so we are sure that you are comfortable and ready to practice the modality with confidence and joy.

What are the graduate community membership fees?

An annual payment of 111 USD provides graduates access to a modality-specific hosted graduate forum. and a graduate resource library, options to participate in graduate-only and graduate-led events in our broader community, as well as access to the events offered for the entire modality community. There are opportunities within the graduate community to share healing and discussion about the work and the soul journey, and enrich the soul path with these beautiful sacred practices.

Can I enrol in more than one course at a time?

This is possible however the Saraswati Healing™ program is a deep immersion and you will need to allow adequate time for rest and integration, as well as practice and study.

The energies in Alana's modality programs are also very different and unique even though they work for the same ultimate outcome of healing and awakening. So whilst we encourage you to trust your own inspiration and enthusiasm, we also want you to pace yourself and trust in the wisdom of steady progress too, savouring the fullness of each program.

We would offer this – some community members enjoy enrolling in a non-modality course, such as the Mother Mary Rosa Mystica program, alongside a more intense modality course like Saraswati Healing™ or the Kuan Yin Transmission™ program, as a form of additional spiritual nourishment and support and this can work very well.

Will I have access to Alana during the course?

Alana is always spiritually present in the course, and the forums are hosted by a carefully selected team of healers and mentors who are very close to Alana and the team is in regular communication with her, doing the work together of holding the space for the magic of the work to unfold in the soul. They will share messages directly from Alana and you will have a chance to connect with Alana at the opening and closing online ceremonies for the training. Keeping Alana's spiritual presence in the training program and the forums is something we take very seriously, providing support on an energetic level as well as creating a safe space for people to connect and share.

Alana's direct involvement is also strongly felt through the content of the courses and key video instructions which flow from her

with some additional supportive offerings from the team as well

The holding of space and energetic integrity in the course process is an ongoing and always evolving collaboration between Alana, our beautiful human team and the Spiritual Guidance inspiring the work.

One of our beloved community members describes it like this:

"I've been a part of this community since 2017, and it has only grown and deepened with Alana's offerings and courses that she consistently creates and shares with the world.  The energy and offerings from Alana, and her team of earth angels, has expanded to what I liken to "a festival of soul" where in every corner there is an offering of healing, wisdom, and play (literally – healing rituals are always offered via zoom from her fabulous team).  I feel like I am held in such a safe and protected space (and fun!).  A space where you come as you are. 

Alana's energy is always felt within the community (how could it not), and offers regular Q&A's, blessings and whatever else she feels is needed.  It feels that she offers this overarching rainbow of energy holding us all in this sphere of soul freedom, allowing us to all find our individual voices and purpose to share with the world.  Alana's team oversees all that is happening, and not only deals with all the earthly side of the community group, and course support, but ensures that everyone has the opportunity to continue to develop themselves and their own inner healing through their constant and numerous offerings to the community.   

And then…there is the community itself where we all are a supportive, authentic group of humans, supporting, learning, and holding space for each other.  I continue to be a part of this community for all these reasons, and that there is no pressure, I choose how active I want to be at any time and what offerings I choose to take up. I haven't experienced such support and immense and vast offerings before.  Very grateful to be a part of this movement." 

– Natalie Jane, Australia

What is the Investment and the do you offer payment plans?

Your invenstment in the foundations programs cost USD 1888 for the 16-week term and payment plans are available for USD 472 each month over a four month plan. Please note that payment plans are run by a third party provider and we cannot customise them.

What advanced course options are available?

Many of our graduates are interested in taking their spiritual studies and soul process further with us, deepening and advancing their understanding and techniques. In such cases, higher level programs with us will be of interest. Advanced training options are only available upon completion of the foundations program to ensure safety, stability and enjoyment of the higher level offerings.

The intermediate 16-week Saraswati Healing Tantric Flow™ program is open for enrolment for graduates of the Saraswati Healing™ foundations program.

What is the refund policy?

We do not offer refunds on this program. Sensitive souls will often feel the energy shift immediately upon enrolment, even prior to the course beginning. We have already committed resources to you, particularly at an energetic level, and places in the program are limited.  Nor do we offer refunds if you are unable, for whatever reason, to complete the course or if we cannot offer you certification as an accredited practitioner. However our team wants to help you on your journey and we will do our best to help you find a way to resolve any issues you may have.  

We want you to feel fulfilled by the program and encourage open communication with our team should there be any questions or concerns throughout the program. Please always feel free to reach out to us
SUBSCRIBE TO our community UPDATES
Free guidance, thoughts and updates from Alana, delivered to your inbox at least once a month.
Click To Pause
Click To Play